Most amazing eyeshadow ideas can not be easily accomplished just by watching some tutorials. Ideally, you need to understand your facial features, hairdo, dressing and so on.
How to find the most suitable shades of color to match your skin tone and eye coloration are very crucial.
Finding the right combination that's pretty much natural with the right color, will surely change your eye makeup style forever.
Best Eyeshadow Color Palette 
Yup, Purple can be sheered out, layered with other hues as its own or pop of colors. On the other hand, the sunny shade will brighten your appearance on any occasion.
No matter what kind of purple hues you wear, ensure to enlighten it with some mascara and liner. Best for enhancing the green coloration for women with hazel eyes.
Another cool eyeshadow idea is putting the tiniest dab of shimmery warm tone just along the inside corner of your eyes to open them up instantly.
Find the best shade that will blend particularly with your skin complexion. If you have fair skin, try warm pastel color. For medium to olive shades, go for hot amber.
And for darker skin tones, we suggest something with green eyeshadow formula such as rich emerald which is actually so flattering for you.
You would also like to try the latest craze with a mixture of cool eyshadow ideas such as matte and shimmer palette with a dash of electric blue.
The neutral warm shades bring out other specs and make your eyes "pop" out.
Applying Eyeshadow
Applying eyeshadow style is pretty straight forward and we totally love the MIDNIGHT or SUNSET EYES look which is supper cool for all you night crawlers and stunning for evening events.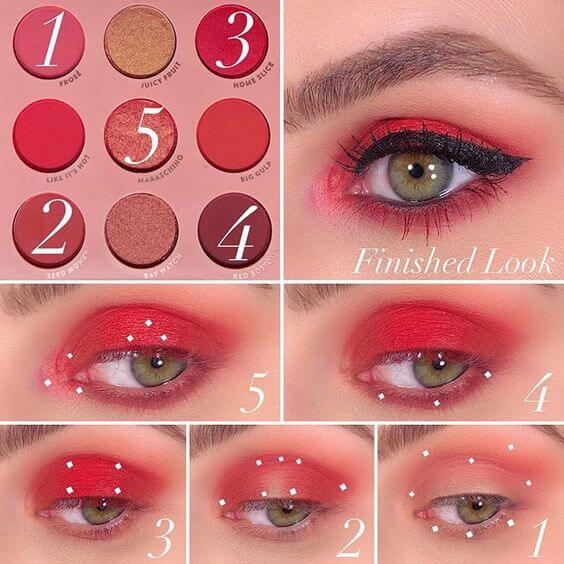 Source: Pinterest
Cute Eyeshadow Ideas
If you are yearning for some cute eyeshadow ideas from celebrities then look no further to Rihanna's Fenty Beauty "True Neutrals" addition that looks simple and pleasing which actually makes this perfect Instagram post go viral.
Cerulean Cat Look
Apply an amazing cat eye spreading well past the outer sides of your eyes using deep Dolce Vita eyeshadow palette and black eyeliner to match.
Permit the cat eye effect to be perceived all the way around by lining the lower lashes in the same shade, spreading the lines to meet with the swipes of lines drawn from your lids out to the sides of your eyes.
Eyeshadow Ideas Natural
Natural mineral eyeshadow is getting popular for those who prefer alcohol free and non comedogenic (not clog pores) as it has 100% ingredients of organic formulation that contain no element of carbon compound.
The majority of natural eyeshadow makeup contains mineral pigments that are potential the newest trend now. Look for ingredients in mineral eyeshadow that contain Mica which are used in most of organic shadow in leading brands.
Furthermore, it also provides a natural shimmering intensity without irritating sensitive skin.


If you have hyper-sensitive skin, ensure to use light dusting rather than heavy application on your skin.
Titanium Dioxide is another ingredient which has sunscreen properties, adding more value to the organic mineral shadow.
Besides, it's safe and protects the skin as long as they don't come in the form of nano particles (less than 2.5 micron) to prevent accidental inhaling.
This is the same case for Zinc Oxide which also have relatively safe sunscreen ingredient, but ensure there are no nano particles that exceed the limit as well.
If you struggle to get your eyeshadow more pigmented, here's some simple eyeshadow ideas and we suggest using Vaseline, perfect for fixing up those wayward lines.
The role of Vaseline works like the same as Concealer as it helps your simple eyeshadow application looks more radiant.
It also makes the shimmer more luminous. The trick is to apply just a little Vaseline as you can. If you over do it, your eyes may end up looking more glossy than what you wanted.
Soak a cotton bud in some petroleum oil or jelly based remover and then perfectly define your line by applying the bud to the base of the rough line.
It is a fast and simple way to erase makeup mistakes when you are in a hurry.
Highlighting your eyes
These eyeshadow ideas are remarkable with no issue on what kind of eye makeup looks you want to attain.
It will brighten up your eyes, balance dark tones, and make them look bigger. Simply sweep white eyeliner across your waterline.
Give your eyes another lift by using the same white eyeliner on your eyebrows. It will provide your brows with more definition and shape if you use the white pencil below and above your eyebrows.
The white pencil eyeliner is seriously underestimated.


Eyeshadow Ideas For Beginners
This is the best eyeshadow tricks for beginners. When you are new to  eye makeup application, take the eyeliner pencil and line the dots along the higher lash line where you want to draw the line.
In case you make a mess, simply erase the dots with Vaseline or makeup remover.
Once done, join the dots and fill in with the color. Linking the dots help you to determine the equal shape of eyeliner on both eyes.
Source: Pinterest
Another bad choice is mixing blue eyeshadow with Red lipstick as both of these shades doesn't add up. You can get awesome ideas here
So, balancing with a nude lipstick or gloss will do the trick and keep you looking fresh and radiant. So, It essentially important to purchase the most appropriate eyeshadow palette.
Here's more resource:
Or you can click here for all the coolest eyeshadow ideas inspiration to up your eye makeup styles for day and night looks.
The idea is to find the perfect combination and stick to the routine. It's so fun to play around with all the palettes but the hottest eyeshadow ideas here is focusing on your eyes for the most attention.