Applying monolid makeup could sometimes be stressful and end up totally wrong. Knowing the right application process and when it should be applied, saves you from a ton of work and makes your pretty monolid eyes application a fun thing to do.
Monolid eyes are visible crease lines on eyelids which is common among Korean celebrities. This unique set of eyes gorgeously stands out in the world of eye makeup as it is known to allure its admirers.
Are Monolid Eyes Pretty
With some specialize help from celebrity makeup artist Tobi Henney (monolid focus), the best trick is to create a feline flick with a eyeliner consciously applied on the outer part of your eyes.
Source: Reddit
The thought of applying makeup on Monolid eyes sounds a bit silly, but doing so definitely brings out the charm and beauty. When applying
Monolid eyeshadow makeups, there are specific rules and tricks. So, what are those mistakes we make when applying monolid eye for morning to evening routines.
Monolid Makeup For Morning
When applying monolid makeup in the morning you should aim for a light and refreshing look. You don't want to have a party or evening look on.
No matter what you've got planned for the day, your morning look should feature a light and natural reflection of the day. Making you look awake and ready for the day.
Alot of women make the mistake of applying the dull/low contrast eyeliner for their morning look. Using a dull color only makes you look sleepy or just recovering from a hangover.
You want to create a cool look that shows you are wide awake and the best technique for this is to use WUNDER2 SUPER-STAY LINER long-lasting & waterproof metallic colored eyeliner.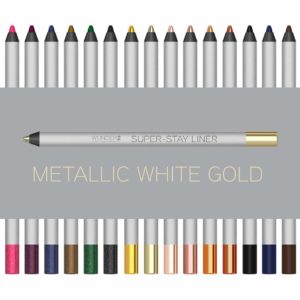 One simple-elegant makeup for monolid you can go with, is the Winged Liner. Ideal for mornings, this elegant technique is simple and could be done in no time.
The idea of this technique is to draw the thinnest possible line along the eye lash line and end it at the outer corner of the eye with a gentle thick wing.
When applying the Wing Liner, you should aim for a simple-natural result. This technique makes you look ready for the day with a simple stunning look. Items you'll require for this technique are: Eyeliner Pencil, Beige Eyeshadow, Q-tip and Eyeshadow brushes.
Makeup For Monolid In Afternoon
The mood and atmosphere now is active, the bees are buzzing, birds are singing and cars are honking. The city is looking active and so should your Monolid makeup.
You would want to go with something that blends with the activities around you, it could be going out for lunch, a meeting or an event. You should aim for a look that brings out the warmth and youth of the day.
By this time of the day, the sun's radiance would brightly set a vibrant tone upon your face and the environment at large. A gentle touch of custard yellow or marigold orange would make an ideal choice.
This Monolid eyeshadow makeup style can also be retouched for summer and spring season. With a touch of a beige highlighter and bright orange eyeshadow you're set for the summer and spring.
For an elegant casual look, apply your pencil eyeliner to your outer upper lid. Dot the liner on your top lid while getting as close to your eyelashes as possible.
Delicately use the cotton swab tip that is on the opposite end of some eyeliner pencils to blend the dots together so that makeup looks perfectly natural. You can also use liquid eye liners for this technique.
If you have close-set eyes, you should line the outer half or two thirds of your eyelid. This gives the illusion of wider-set eyes.
Your eye makeup looks should blend with your surroundings theme, setting and color ambiance. It could be for a lovely evening dinner or a night party.
The best Monolid eyeshadow makeup technique for evenings, is the Classic Smokey Eye. The Classic Smokey Eye technique gives moon-light drama to your eyes, making it an ideal choice for evenings.
You should apply an eyeshadow palette that matches your outfit and gracefully flows with the occasion.
When applying the eyeshadow looks, your blending skills will be essential to achieve a fluent movement.
Excellent blending is the secret to a perfect eyeshadow effect. Popular evening eyeshadow colors are Shimmer Julep Eyeshadow 101 Crème to Powder Waterproof Eyeshadow Stick for a stunning night out.
For your eyeliner, you'd want to make it have a gorgeous alluring look. To do this, ensure your eyeliner is free from particles that could fall into your eyes and your fingers are clean.
Apply a gentle colored shimmery shadow on the half of your eye, using a darker shade, apply at the midpoint to the edge and up to the crease.
Using a your finger, line your upper outer lid, with the dot method. Repeat on the bottom outer lid. Finally, gently smudge the lower and upper lids towards the inner corner.
There're lots of notable makeup kits to choose from, when choosing the right eyeshadow makeup kit for yourself, your skin tone and texture should be the first option you should consider.
https://www.instagram.com/p/B61NTxUFS2B/
When you've picked the perfect eye makeup style, price and other relating needs should be wisely considered according to your budget or taste as well.
You may find more ideas here or simply scroll to our homepage for more interesting eye makeup such as this popular post on monolid vs double lid.
Using fake/cheap tools would result to undesirable results. One most important tip when applying Monolid makeup or follow any other makeup tutorial is to invest on quality application tools.
More related essentials posts to check out…