Travel cosmetics are a critical part of a woman's inventory when going on vacation. Being organized and practical while packing the correct makeup cosmetics for your trip is key.
While most people just grab their regular stuff like 2-3 shades of shadow palette, few brushes, and mascara, you should consider packing your cosmetic and toiletry bags efficiently.
Whether you're jet-setting across the world or just taking a domestic flight, trying to pack your travel cosmetics and other toiletries before you depart can be a challenge.
Fortunately, there are always ways to make things easier with a standard women's makeup bag organizer to go with your travel bucket-list.
Whether you're traveling for business, pleasure or both, this guide will help you pick the best cosmetic travel bag and essentials in a way that's organized and easy to manage.
A women has to be careful when it comes to beauty packing. There is no such thing as being too prepared. Because it's important to look good and tidy while on a vacation trip.
It's easier said than done to distinguish between a 'desire' and a 'need,' but here are some pointers.
The first stage is to get rid of the excess, the second is to identify your necessities, and the third step is to make everything suitable for travel anywhere, at any time!
Almost every country on the planet will have the same cosmetic necessities readily available at drugstores and malls.
So yeah, think ahead about what you want to pick up for your trip. For example, I'll simply get a cheap one before departure.
Bring just what you cannot simply replace, and prepare to pick up cosmetics that is both simple to find and inexpensive to buy.
Best cosmetic and toiletry bags
BAGSMART cosmetic and toiletry bags is a must-have for every women traveler! Something that fits conveniently in your carry-on or checked baggage.
I'm completely smitten with this cosmetic travel bag. I can't express how much it has helped me remain organized, streamlined and light while traveling.
Here are 7 convenient reasons why I like this adorable color-pop makeup bag with compartments:
Outstanding large capacity makeup bag organizer with 4 different compartments
Double zipper for easy access. Bottles are all placed upright. Comes in medium or large size.
Stylish water resistance material with front pocket. Smooth opening with 2 way zipper.
There's a place for everything! There are so many various sizes of pockets that I can practically fit everything I need in them and not have to look for it.
It keeps me in check. It's been my rule of thumb on how much things I should be carrying about.
It hangs with 360 swivel on towel bars or racks, completely loaded.
It includes pockets for my iPad, passport, change of clothing, and other items if I choose to use it as a carry-on.
travel cosmetics Must-Haves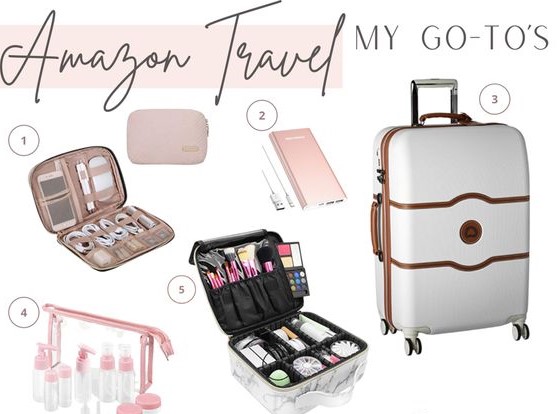 These three tools are all that I need  for my hairdo, take up a small amount of space and are all super lightweight!  
I replaced my huge blow-dryer with this mini one and it still dries my hair in the same amount of time, but takes up 75% less room. I am also a fan of my Nume Straightener & Nume Curling Wand.
The Urban Decay All Nighter powder is a miracle worker when it comes to keeping oil at bay and making it vanish if it does emerge.
Because I no longer use foundation, this waterproof finishing powder is easy to apply, which I need for any sunny trip. 
I use this mineral powder overtop of the BB cream.  For those nights out, there's also the Urban Decay All Nighter makeup setting spray.
Because I wasn't utilizing 80% of the shadows in my palettes, I identified the ones I used the most and purchased at Amazon.
These affordable eyeshadow kits are much more compact, and I'm getting a lot more shades. The rest of my eye makeup are from a drugstore. These are the ones I've been using and I adore them.
I find that I use them often and cannot justify the high-end brands when they are of comparable quality. My favorite 'cheapos' are:
Only two shadow palettes made it through my cosmetic travel bag. Because my Smashbox Contour is a bronzer, contour, and highlighter in one, it saves me room.
The Smashbox Cover Shot Eye Shadow Palette contains all of the colors I need. I can simply add shimmer with a tiny powdered highlighter I keep on hand.
Additional Skin/Cleansers
Because I am so sluggish at night, I use Neutrogena wipes to remove my makeup before going to bed or to refresh my face after a workout at  the hotel's gym.
They're the only face wipe I've found that doesn't make me break out! The Shiseido toner has been my go-to product for preventing wrinkle.
It doesn't dry me out, but it reduces wrinkle by approximately 99.9%. This toner has been a lifelong addiction for me.
I should probably search for a better shampoo and conditioner for my hair type, but these have served me well for the last five years!
With no complaints, I use the Tea Tree Lemon Sage Thickening Shampoo and a drugstore volume conditioner.
They seem to add vitality to my thin hair. I also use a sulfate-free body cleanser that smells great!
I used to have about 40 of these, but I never utilized even half of them! Only the ones that fit in the makeup brush travel case which are often used were retained.
When I get at my location, I place all of these items in a cup to keep them organized and accessible.
Bottom line: Is packing women's makeup bag difficult? Yes, especially when you're a traveling beauty enthusiast. There's a lot travel cosmetics you have to pack, and it can get out of control.
Even if you're only going on a short trip, there's a lot to learn about the ideal cosmetic and toiletry bags for a stress-free trip.
Frequently Asked Questions About Makeup Bag Organizer
More related products posts like this…