A friend of my mother learned it the hard way – liquid eyeliner that she had put on for a party started melting and escaped within fine lines around the corners of her eyes, giving her a nasty smudged look.
Recently Updated: Oct 2021
Now that the corners of your eyes have visible fine lines, it's not that easy to create a perfect line in one stroke with a pencil eyeliner.
And that's how I came to know what's perfect makeup for women over 50 and the magical product is, 'waterproof eyeliner'. Waterproof eyeliners are so helpful because they dry up while you're still applying them.
Waterproof eyeliner give you the option to create a thin line, and even build it up with multiple strokes to get a contrast bold look. And the best is – they do not melt!
Now that you know what kind of liner product that is easy to apply and your perfect companion when you are over 50, you need to look at what options you can decide on with it.
Best Liquid Eyeliner Pencil For Mature Eyes
Liquid liners are smudge proof styling genies that seamlessly glide over mature eyes through wrinkles, fine lines and cracks.
However, it needs extra effort to create an impeccable look even on aged skin that is wrinkled all around the corners.
Bottom line: This waterproof pen tip is pretty sharp especially for older woman. Super dark color and easy to apply. With 14 colors, it hardly dries up and can last for months.
Stila Waterproof Liquid Eyeliner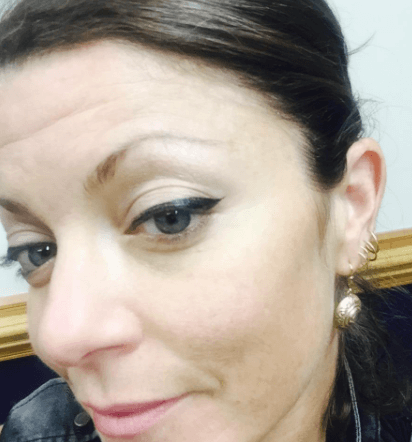 Liquid eyeliner are quite as attractive as gel based eyeliner They come in different colors as well.
However, it's usually recommended to apply a liquid eyeliner on mature skin. Liquid eyeliner can also be a habit that's hard to change for many of you readers here.
If you love using liquid eyeliner, but have started having troubles because it gets messy on your loose skin, there might just be some tips that will help you.
Use compact powder below and above the primer, and then use a liquid eyeliner. It will give a better hold against melting concerns.
Dip a pointed pencil in your liquid liner to apply it. This helps create a much precise and thin line over the upper lids on comparison to a brush.
If your eye skin is far too wrinkled beyond your current age, smudge your eyes with a powdery eyeshadow before you apply the liner.
To create a winged eyeliner look, avoid broadening when using liquid eyeliner. The thinner the line, the longer your liquid liner will last without visibly melting.
Bottom line: Vegan, non-comedogenic, dermatologist-tested primer is enriched with marshmallow root extract and cruelty free. That means it's pretty much safe for mature skin which is quite delicate.
if you prefer gel liners, I have looked into this puzzle as well and compiled some important eyeliner tricks that will inevitably help your mature eyes twinkle and won't smudge easily. Cruise through this fast help guide to find out how.
Gel eyeliner dry soon after you apply them, using an eye primer is still going to be a mandatory step.
Rather than holding your gel eyeliner with it's tip pointing directly towards you, hold it horizontally.
Holding it horizontally will make it easier to draw a line in one stroke.
Do not stretch your eyes with your hand when applying the liner. Simply chin up and peek your eyes down to your nose.
Eyeliner Mistakes On Mature Skin
By far I have made a mention about how to use gel and liquid eyeliners and their benefits on mature skin. Now you should also know the eyeliner mistakes to avoid at all costs. Have a look.
Don't forget to moisturize skin around eyes before you start applying eyeliner. Mature skin is already dry, and not moisturized though. It will make it drier and create more wrinkles and cracks.
Use a gel based moisturizer to avoid any sticky mess. You can also use vitamin E rich gel or liquid eyeliner. They will automatically keep the skin soft.
Do not rub the liner from your lids while taking it off. It will break the lashes and cause itching. Rather, take it off gently with the help of coconut or almond oil.
Do not use black eyeliner on your lower lids if you have puffy eyes with dark circles.
It's equally important to understand the routine in order to enhance and boost your eye makeup ideas. Which is why, I would like to share few vital eyeliner tips for woman past 50 from a makeup artist friend of mine.
It is true that eyesight gets weaker with age. If you wear glasses and not contact lenses, always wear a colorful eyeliner, probably the one with fine glitters.
Use earthy shades of brown if your eye skin is blotchy and pigmented. Using too dark or black eyeliners on such skin will ruin your look.
Mature eyes demand more depth. It gives an edge and diverts all the unnecessary focus from wrinkles and fine lines to other features. If you have mono-lids (hooded eyes), use a nude pencil under your waterline to open up your eyes.
Which is why, you can get quite frantic with using different colors of eyeliner, especially at your age. Colorful bright eyeliner will steal all the focus and will look charismatic at night events.
Build your confidence by keeping motivated. If you don't like to follow rules, use common sense when it comes to eye makeup for over 50. Always avoid full-on sparkle to evade looking like a disco-ball. Keep your hairstyle over 50 short and manageable.
Lift up your love ones spirit by sharing this article (due to the fact) that facing "midlife crisis" is challenging. Introduce our eyeliner makeup suggestions to a friend as a little bit of encouragement goes a long way.
More Over 50 posts like this…