We found out that the most appropriate method to natural makeup looks, are to use different eyeshadow colors methodically and precisely, but be cautious as the harsh lines of your eyelid may look weird.
How do you do a natural makeup look for beginners?
Here are a few basics makeup ideas for all you readers before starting on your journey to fabulous looking eyes.
Eye primer can go smoothly and stay for a longer period
The primer contains silicone that allows you to make smooth creases and lines around eyes to avoid uneven look
Prep your eyelid with primer before applying other makeup products on your eyes. The primer can give a durable flawless and polished look to your eyes
Primer of different brands is available in the market. Try one primer that works well for you and stick to it
Use Concealer To Cover Dark Circles
Dark circles are revealing signs of sleep deprivation, and you have to conceal them well with the help of concealer before applying any makeup
Choose a concealer that includes moisturizer
Eye bags, also known as " puffy eyes " is the swelling of tissues under the eyes, caused by fluid buildup. Concealing them will be helpful. Ensure to lightly apply concealer because the skin around the eye is tender and delicate
A thick layer of concealer under eyes will make them look like creased and cakey
Mildly blend all colors so that the whole lid looks smooth and seamless. Consider using a feathery and soft brush to blend colors. The soft brush makes it easy to gently blend all colors.
There are different primers out there for different types of shadows and skin issues. Find the right one(s) that work for your skin and the makeup looks you are going for. An online store like Sephora can help you with this.
The next step is making sure that you apply and let the eyeshadow set properly. Cream and liquid eyeshadows need time to dry before you blink. Pencils and creams may need to be set with a finishing powder to stay on better.
Flawlessly put on eyeliner
According to reputable British makeup artist Charlotte Tilbury, to create that elusive Cat eye makeup look, thick lines is recommended to allow you to get a dramatic impression.
It will be good to apply eyeliner to the top and bottom of your lash line. Thick black eyeliner is making a comeback (as seen at Marc Jacob's fashion shows) Just don't apply a thin line above your lashes.
More crucially, though, formula and product matters. All these MUA-tested and approved eyeliners will stick to your waterline all day.
Amy Miranda is an award winning professional makeup artist and she likes her eyeliner to wing it out a bit at the end. They go on silky smooth and the color lasts like forever.
If you want to apply liquid eyeliner, you have to do lots of practice to create harsh lines. Remember, practice makes perfect…as the saying goes! Gels and powders can be a good choice for beginners to create softer looks.
Start making a line from outside and slowly move inward. Stop before getting to close toward your nose. Lining the whole perimeter of eyes towards the nose may give a closer and smaller look to your eyes.
Best for a natural look
To apply mascara to lashes, commence at the foundation and slowly move toward its ends. While moving along lashes, slightly wiggle mascara wand forth and back. It will avoid clumps sticking to your eyelashes.
If you have to apply it on the bottom and top lashes, start with bottom lashes.
If you get started with top lashes, you will get mascara on eyelid while looking down trying to apply mascara on your bottom lashes. You can apply multiple coats of mascara to build layers and make your eyelashes look thicker.
Curl Lashes
Be certain to curl lashes before applying eyeliner, mascara or eyeshadow because it can smudge your eye makeup
Hold an eyelash curler at the foundation of lashes and press it down for almost three seconds
Do it twice in the middle of eyelashes and once at their ends
One of the ( experts ) secret is to slightly warm an eyelash curler with a hairdryer to get crisp curls. Avoid overheating as you may hurt your sensitive skin
Source: Makeup Artist
How do you get a natural look with makeup?
Plenty of makeup ideas are available, but the inventor of Smoky eye Linda Cantello is one of the best makeup artist around.
What we learned from her is that smoky eye can match any women and suits many eye colors and shapes. It really depends on how you want to get that desired definition.
Do you want darker colors underneath your eyes! As a general rule, you probably have to apply dark colors to the outer and inner corners of eyes.
This makeup looks works well with different color of eyes. You will need stiff brushes to easily pack shades on the eyes to get that pigmented and solid definition.
Nonetheless, you really need to take the pencil and just play till you are satisfied with that variation of natural makeup looks that fit your style. 
You can find out more on natural eye makeup for brown eyes step by step and essentials on how to blend amazing shades in our other posts as well.
By brushing medium or dark color in the eyelid crease, you can make your eyes look larger naturally. Make sure to apply sufficient dark shadow so that it can become visible while your eyes are fully open.
Use a pencil brush to apply your favorite color to the eye crease. A small brush will help you to apply color in the small crease without smearing it over the whole lid.
Ensure to highlight the middle of the eyelid by using a light color to make your eyes look bright and bigger. Use similar color to add a pop in the inner corner of eyes, near your tear duct.
Two highlight pops will brighten up your whole makeup routine. Choose a stiff brush to pack it with light colors well on the brush and perfectly cover the middle of the eyelid.
If you use dark color around your eyes, this technique can actually make it looks smaller. There are a few ways to make your eyes seems bigger.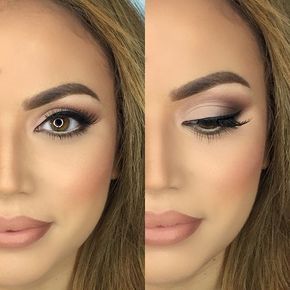 Here's a trick that we found out from a top makeup artist that probably would not like her name being mentioned.
Using false eyelashes; When you use false 

eye

 lashes, they tend to curve upwards. This creates an illusion to 

make

 your 

eyes

 seems more open and awake
Using a white/nude eyeliner to waterline your bottom 

eye;

 This 

makes a

 person 

look

 more awake and alert
Highlighting the inner corners of 

eye;

 This 

makes

 your 

eyes

 'pop' and 

look

 more awake too
Drawing on 

eye

 brows that suit your face; If you extend the brow downwards a little bit too much, this may cause your 

eyes

 to 

look

 droopy
What do you need for a natural makeup look?
Amazing makeup looks is incomplete without excellent eyebrows. You can start brows perpendicular toward the side of the nose, so use a brush or pencil to get to this spot.
Carefully brush the hairs of your brow with a brow brush and fill them with color using light and short strokes to blend it naturally.
However, if your hair follicles are not as densely packed, then growing them out might not make much of a difference in terms of thickness. Ensure to avoid harsh lines to avert unnatural appearing brows.
To look good, get hold of the most appropriate essentials to fill, shape and define your natural looking arches to match the perfect makeup looks for any occasion.
Hope you like these guideline to our natural makeup looks easy routine and would love to hear any review for our viewers.
More related posts like this…