Black eyeshadow looks smokey eye makeup are a favorite from makeup artists to celebs. It goes without saying that former Miss World, Aishwarya Rai Bachchan has stunning eyes.
Recently Updated: Oct 2021
There's nothing classier than a cool look with a classic smokey black eye makeup. A perfect smokey eye that's going to steal the show with the latest retro trend.
It's really simple to create a black Smokey with dark eyeshadow looks and it's quick and easy to do.
Here's 10 classic black eyeshadow tips to create beautiful looks for any occasion.
The first thing to do is have an eyeshadow primer in hand. Use your finger to blend some onto the eye area to prep your lids for the eye shadow that are to come next.
I normally prime my eyes before I use the application, so that helps, but if you really want two eye shadows to show up strongly, use a coated base. Let's do brown and black shadows for a classic Smokey eye looks.
Take a warm cream brown shadow and again using your finger to pat the product onto the lids. Use a brown and black base first, to intensify the eye shadows.
Use a synthetic brush as it works really well with the cream shadow. Start applying the brown shadow along the lower lash line. Take a black cream shadow and once again use your finger to apply it to the lid.
The warmth of your finger actually helps to blend out the shadow easily. Start blending the black down along the lower lash line with a pencil brush and ensure that you have a nice even color spread.
Take a black shadow with a big C-shaped brush to pack the shadow on top of the base making sure to coat the lid area only and then taking the black down along the lower lash line to set the cream shadow in place in that area as well.
Next, take the brown eyeshadow and layer over the brown cream shadow that's sitting in the crease by layering your shadows over cream bases.
You're going to get a more intense color payoff and the shadows are actually going to last longer too. Totally cool for making your makeup last longer during warm weather. I like this look to be dark and Smokey.
Line your waterline with some black eyeliner and try this trick by blending your own lashes in with a false ones. The combination will simply go down well with your black smokey eyeshadow looks.
Lastly, add some mascara and apply with a heavy hand to your top and bottom lashes and that's it.
Some celebrities are born with eyes that are naturally colored, making them special! Aishwarya has a routine on which colors and eye makeup styles that fit perfectly with her skin and looks.
Although her preference is matte for daytime, her cue for the night is glossy and glitter. To accentuate her hazel green eyes, mascara is always important.
And Aishwarya pretty much likes to really pile it on, curling her lashes well and then adding volumizing mascara on top and bottom.
"For the day, I am partial to lip colors in shades of nude, pink, peach, beige and earthy brown," For events and outings, "light shimmery shades for the lips and smokey eye."

Aishwarya Rai Bachchan
Dark Eyeshadow Looks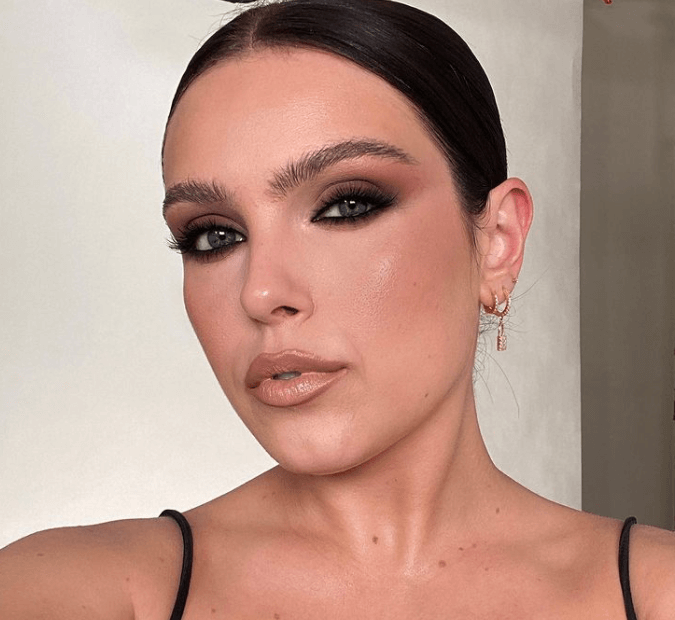 Mod eye makeup featuring dark eyeshadow, darkened creases, and dramatic lash lines, popularized by Twiggy and Cher in the 1960s, is now trending on TikTok.
This fun, retro makeup trend is created in a variety of ways by different makeup artists. For mod eye makeup, a black kohl or gel eyeliner is a must-have.
According to Makeup artist Lennie Billy, black eyeshadow in a form Black Kohl eyeliner is totally cool for this look.
"It has to be long-lasting and doesn't dry out right away so you have a little window of time to play with it before it dries"
You also need black liquid eyeliner to line up your bottom lash line and create the base shape as well.
When it comes to mod eye makeup style, thick big lashes are obviously crucial, so top-notch mascara and fluffy falsies or eye extension are a must.
Definitely, smokey eye goes super well for black eyeshadow. And for Mod eye makeup looks, you pretty much have to master the look for this style.
I'm, a big lover of black eyeliner. Those are great because it gives them more intense looking, but it also gives you the option to do like a winged eyeliner or cat eye because it's gorgeous during daytime or for summer nights out.
NYX PROFESSIONAL MAKEUP are reasonably priced. The tones are beautifully pigmented and last all day.
This makeup essentials is of good quality and comes in a lovely box. A great choice for those wanting high-impact looks.
NYX PROFESSIONAL MAKEUP Epic Waterproof Eyeliner
Smokey Black Eyes With Glitter Tips
Go all glitter and shine by using a sparkling silver eyeliner for lining the upper and lower lids while using a metallic dark eyeshadow for that chic smokey black eyes.
You can start with a silver base first. Then fill the center with sparkling metallic black while leaving the edges of silver exposed.
This silver will work as an eyeliner on the lids. Do not forget to use mascara as well to make your black eyes pop.
Six universally appealing rosy neutrals are included in the Naked3 Mini Eyeshadow Palette, which can be applied with any eye makeup look.
If you looking for stunning smokey eyes tips for hazel or green eyes, mascara and eyeliner are probably what you are looking at.
Basically, any dark shades works well for your eye color, so it's really super easy to rock with black eyeshadow and eyeliner.
At the end of the day, beauty is power and smokey black eyes is something that really enhance a woman's confident.
If you like more smokey eye tutorial, visit my other popular posts on all about eye makeup looks.
Black eyeshadow looks can give you the confidence to pull off the trickiest and even the most simple occasions like no one else can.
More related post like this…
Priscilla Gomez

Read More →



LOOKS
Priscilla Gomez

Read More →



LOOKS
Priscilla Gomez

Read More →



IDEAS
Priscilla Gomez

Read More →



LOOKS