Kajal makeup on the eyes can pretty much be the most expressive feature of your face. A Kajal and mascara are two basic products which can amp up your eye makeup game.
Kajal eye makeup style is an eye cosmetic that is usually worn on the eyelids and the area under the eyes to give them a sultry, seductive appearance and some women use it to shield their eyes from the sun's harmful rays.
Today, I'm going to share some kept tips and tricks about these two eye makeup staple. I always look for Kajal makeup products that are smudge-proof, waterproof and long lasting.
But the one's that smudge easily, can be used to create smokey eye looks. Totally cool for this eye makeup trend that never goes out of fashion.
How to apply Kajal without smudging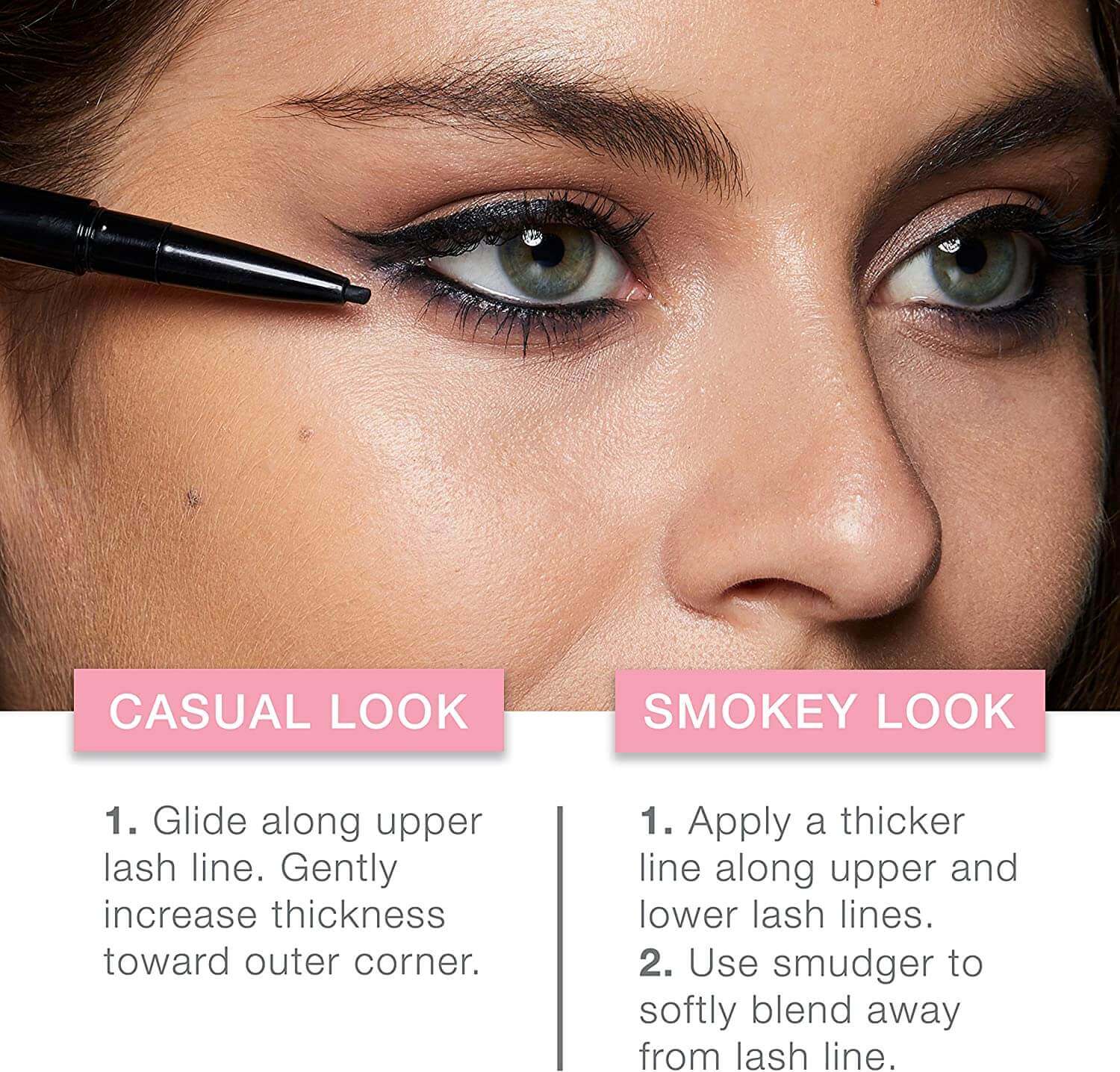 Warm it up on your hands, so that it glides on smoothly On days when I like to keep it natural and go easy on my makeup,
I use a Kajal on my lower and upper water line to add some definition to my eyes.
When I don't have my liquid or gel liner around, I just use my Maybelline New York New The Colossal Kajal!
I make these small dots or dashes, closest to my lash line and blend them all together, with an angled eyeliner brush.
When I'm running out of eyeshadows, I mix and match my black and color Kajal to create stunning looks on-the-go.
A great tip to remember, is to powder your lids before applying Kajal, so that it stays in place all day long.
If you have dark circles or under eye bags and you're planning to skip on your concealer then what you can do is opt for colored Kajal as it helps to brighten your under eyes and takes the attention away from your dark circles.
How to use Kajal as mascara
 

 

View this post on Instagram

 
Mascara is one of my favorite makeup product and it's completely indispensable.
So even on no make-up days, you can still wear a little bit of mascara. It helps to open up your eyes and gives a fresher look instantly.
Mascara's come with different wands and it's very important to choose the right one for your lashes and the look your going for.
Curved mascara wands are ideal for straight or droopy lashes, as it gives them that much needed lift.
The Maybelline Waterproof Hyper Curl is amazing for people who are looking for some volume & curl.
Also if you don't own an eyelash curler, curved mascara wands are ideal, as it helps to curl your lashes outwards.
Straight mascara wands give natural-looking length and volume and are perfect for daily wear. It's not to over the top, but it gives you dreamy lashes and who doesn't want that.
Tapered mascara wands are great if you're a bit of a perfectionist, when it comes to mascara as you can spend as long as you want applying and arranging each individual lash!
So, the first step of your mascara application, should ideally be to curl your lashes to avoid any clumps and to get a wide-eyed look.
The wand of a new mascara has a lot of product build-up on it which can make your eye lashes look clumpy. So what you could do is take the excess of with a tissue paper.
Look down into a mirror while applying mascara to avoid poking your eye or smearing your lids with excess product.
A lot of the times we face the problem of our lashes falling off, in the process of taking out your mascara
To avoid this soak a cotton swab in makeup remover and just gently press it over your eyes for about a minute, before wiping it off.
This will save your lashes from falling. So, while applying your mascara, don't wiggle the brush from side to side.
Just wiggle into roots & then pull it up straight for an even root to tip coverage, length, separation and a clump-free finish.
DON'T load up too much mascara on to your lash tips, this could just make them look really heavy and it will result in the dreaded droop! DON'T throw your mascara wands after your mascara gets over.
Wait! Instead clean them and use them to groom your brows. I hope these tips help you become a pro at using Kajal makeup and Mascara in different ways.
More related products posts like this…